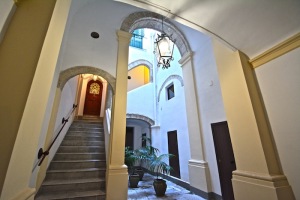 At Palazzo Mango we rent two holiday apartments, "Foresteria della Cattedrale" and "Foresteria del Palazzo Mango" for short-term lettings. We do not rent single  rooms, breakfast or meals not included. The location is unique, relishing the beauties of Palermo historical city centre while enjoying the comforts of a modern flat.
You will be surrounded by the most fascinating and ancient monuments and churches of Palermo, we are in the middle of the Unesco World's Heritage List "Arab-Norman Palermo"; during the day you will visit the artistic treasures of the city and in the evening the streets and night-life, will unwind at your doorstep.
You can go from Vucciria old market to Via Chiavettieri at Spasimo or Candelai, or even from Ballarò, to Via Bara all'Olivella going from Teatro Massimo .
If you like

old mansions

and

have never visited

a real

Sicilian

Palazzo,

as a guest

of this house

do not forget

to

ask,

if available

,

to visit the Palazzo

Mango

.
Foresteria della Cattedrale is an apartment located on the 1st floor of our Palazzo. The guests can easily access passing through the main entrance hall and coming up using the beautiful marble stairway. No elevator is available.
On the third floor there is the second flat, Foresteria del Palazzo Mango, that is available only in selected periods. It is a very bright and spacious, featuring a nice and large chimney made of old sicilian majolicas .
In both the apartments the minimum rent is three days with minimum two guests. No more than 6-8 people on the 1st floor , no more than 4 people in the 3rd floor.
The flats display large well equipped kitchens, while the breakfast service is unavailable. Don't worry: there are many pastry shops, cafes and restaurant nearby, as well as the traditional open-markets and supermarkets for all your culinary needs!
We don't provide for any cleaning service during your stay however any special request can be directly agreed with the owner.
Here are some good reasons to choose our Foresteria for your stay in Palermo:
The perfect location in Via delle Scuole, in the middle of the historical city center of Palermo.
In the middle of the Unesco World Heritage Site of Arab Norman Palermo;
All the monuments, churches, museums and points of interest within walking distance.
The absolute privacy you will have in our cosy, spacious and comfortable flats.
A fascinating Palazzo recently restored, belonging to our family with a centenary history;
busy area during the day and quiet at night;
characteristic narrow street, paved with traditional "flagstones " Stone Billiemi, in an area not degraded ;

At the corner of the pedestrian street of Via Vittorio Emanuele; easy to get to , in front of the bus and shuttle Corso Vittorio Emanuele;

feel safe, with the door and the hallway lit; the house is equipped with videophone and outdoor surveillance ;

close to folk traditional outdoor markets Ballarò, Capo and Vucciria ;

close to the flea market and the antiques district ;

near the Puppetry of the puppeteer Maestro Argento, with shows very fun, suitable for children and adults who love the traditions and folklore ;

plenty of bars, cafes, self service and restaurants in the area ;

in addition to our suggestions for the best performance of your holiday, we provide a map of the city and a handbook containing our list of restaurants in the area, supermarkets, pharmacies, banks and useful shops of the historic center .
Fee and conditions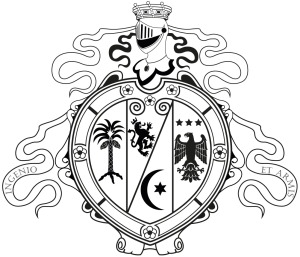 FEE AND CONDITIONS
Check-in time available from 5 pm. to 10 pm.; Check-out by 9,30 pm. Any different time schedule can be agreed with the owner. If necessary we can keep your luggages in our storage until check-out time. Check-in after 10 PM, under request.
Please send us a mail so that we can check our availability for the days that you request. We will reply as soon as possible and give you all the informations you need concerning your booking.
In the 1st floor apartment infants and children under 2 years old are fees free except a contribution of 10€; the children up to 12 years pay = half price.
In the third floor, no children under 14 years old are admitted.
Our basic fee is for min. 2 people per room. Your stay should include min. 2 people and last more than 3 days .
Discounts available for long stays and groups.

During your booking we add a fee from € 50,00 for the cleaning service, depending the number of guests.
We are environment friendly ! The electricity service is included until it reaches 3 kw per day; Should you exceed, an extra payment would be required. Water and gas services are included.
Our relished guests are very special, we will take care of them, we therefore stand ready to fulfil any of their need. We're sure they are going to respect our Palazzo as we do.
How to reach us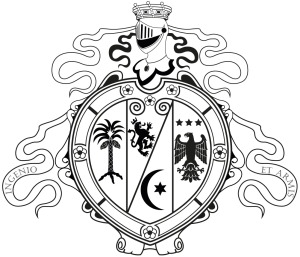 HOW TO REACH US :
Here you can find the connections with Palermo's airport "Punta Raisi/Falcone e Borsellino": tutte le info. You can found other informations, only in Italian, in the GESAP site.
Shuttle service Prestia e Comandè that departs every 30mins (except for the night) and has several stops; the last stop is the Central Railway Station, 25min walking distance from the Palazzo. The ticket payment has to be done directly on the bus (approx. 6.30€).
Taxi is another option, although we suggest you to agree with the taxi driver the price of the itinerary that runs to the cathedral; it should range around €40 .
There is a service of taxi sharing for about 6€/person; the taxi leaves you in Via Roma near the corner with Via Vittorio Emanuele; after you should walk thorough this straight street for about 10 min.
We advise you to book a private taxi service that will take you directly to the Foresteria at a reduced price. We will give you all the informations.
If you're arriving from Catania, Messina, Agrigento, Trapani or Mazara you should just go straight ahead on Viale della Regione Siciliana ( or Circonvallazione / Tangenziale) and exit for  Via E.Basile, and follow the direction that brings to Cattedrale- Centro- Piazza Indipendenza; here a map of the detailed itinerary.
Foresteria is located in the old city centre, all the monuments, churches and museums are easily reachable by foot except for the Castello della Zisa, Monte Pellegrino, Monreale or Mondello that would require a vehicle.
In the month of July 2015, the municipality closed the main street of our area, Via Vittorio Emanuele, who become pedestrian: so it is necessary to reach our home by car through the small streets of ancient Palermo. Google map don't show clearly the way and sometimes it's not updated: so do not trust to much your GPS and don't use to reach Via delle Scuole or Palermo Cathedral by car. But no problem: if you have a car, we'll furnish you a map showing the way!
You can actually park your car in the square just beside the Palazzo- Piazza Sett'Angeli- or in the streets nearby. During daytime, parkings is tricky, while on evenings parking areas are way easier (except for the weekends).
There are some kind of valets, who keep your car in exchange of a  tip (illegal). Sometimes they might also sell parking cards for the blue parking (not needed in our district).
If you prefer to park your car in an indoor garage you can find it on via Panneria 14 ( 10 min walk). A public parking area is at Papireto Square.
There's also a large Car Park in front of the Courthouse, 15 min from home (parcheggio multipiano).
Palermo's bus service is unreliable, you might wait quite a long time. The tickets can be bought in the tobacco shops, bars or kiosks. A new bus shuttle service has been made available for the historical city centre .
We recommend you to keep with you a map of the city or GPS for any eventuality.
FERRY AND OTHER CONNECTIONS
There are many ferries: Tirrenia, Snav, GNV , that connects Palermo to Napoli, Civitavecchia, Genova and Sardinia. There are also some hydrofoils connecting the islands Ustica and Eolie; if you want to go to Egadi Islands, ferries depart in Trapani.
There are also some ferry-boats for Tunisi. If you want to go to Pantelleria or Lampedusa the best way is by plane from Punta Raisi-Falcone Borsellino airport.
The harbour is 20min walking distance; alternatively taxis can be found in the surroundings. The ships usually arrive at 7 am.; you can take your time to take a walk in the city or breakfast before coming to our Foresteria after 9 am.
SICILY,  PALERMO,  OUR  GALLERY: