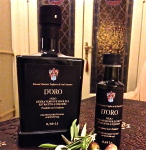 D'Oro Extra Virgin Olive Oil origins from our lands in Grattavoli, near Sciacca (Agrigento). The cultivar (varieties of olives) are Biancolilla, Cerasuola, and Nocellara, grown and harvested in full respect of traditions, without pesticides or fertilizers.
---
The bottles are available for sale by 500ML format in 6 bottles box. For info and orders kindly contact us at: ninomarti@hotmail.com
---
The Feudo Grattavoli is located in the hills surrounding the towns of Sciacca, Sambuca and Caltabellotta, from where you can admire a stunning sea view of the southern coast of Sicily, leading to Menfi and Selinunte. The natural and wild beauty of this countryside is characterised by protruding rocks and palmettos. These fertile lands have been hosting the Sicani civilisation since its dawn, as evidenced by the countless caves used as dwellings and burial grounds up to the Roman and Byzantine age: Mount Grattavoli is indeed under archaeological guardianship.
Feudo Grattavoli belongs to the family Tagliavia San Giacomo since 1445. It became Barony of Grattavoli in 1450 following the marriage of  Bartolomeo Tagliavia Baron of San Bartolomeo with Beatrice Termine, the latter having inherited to the brother Antonio several properties of the coast. Grattavoli counted about 500ha in the mid 50's.